HBA Community Ministries provides support for the outreach ministries of the Halifax Baptist Association and member churches, seeking to plan, organize, and implement: Campus Activities, Spring Break, Bike Week, Race Weeks, Resort Ministries, and other evangelism experiences. Community Ministries works with other ministry organizations such as Central Florida Raceway Ministry, Get in G.E.A.R Motorcycle Ministry, Women's Missionary Union, Baptist Men, Disaster relief and others. Through cooperation we can reach our community for God's Kingdom!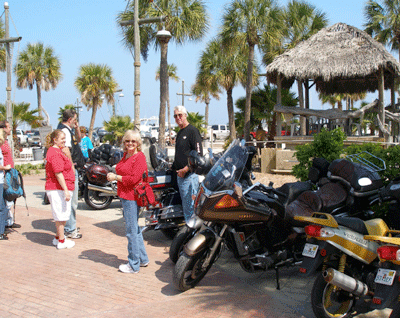 Get in Gear
Get In G.E.A.R Motorcycle Ministries is a motorcycle club sponsored by the Halifax Baptist Association. This ministry provides a time of fellowship between motorcycle enthusiasts, as well as an outreach to the many bikers that visit our area every year.
Education
Family life is important to the church, and to expanding the Kingdom of God. Building strong families builds strong communities. The Halifax Baptist Association helps to strengthen families through special events, training, spiritual growth, and evangelistic events. Our churches offer a wide variety of opportunities for families to come together in a loving environment.​

Discipleship is based on emulating Christ and acting like him. Teaching believers to be like Christ is a fundamental mission of our churches. Discipleship is emphasized in all four gospels, and the book of Acts. Through making strong disciples our churches have the ability to share the Gospel of Christ in ways that impact every area of our lives. Halifax Baptist Association provides the resources for our area churches to fulfill this mission. Training events, teaching resources, and most importantly encouragement are all available resources through our association.
Sunday School has traditionally been one of the strongest evangelistic tools of the Christian church. Today's world is changing at such a rapid pace that the principles learned through systematic study of the Bible are more important now than ever. Halifax Baptist Association, in cooperation with our member churches and the Florida Baptist Convention provides the resources to help your church have a dynamic, thriving Bible Study program.
Missions
Halifax Baptist Association partners with the Florida Baptist Convention in facilitating missions projects, events, activities, and programs with churches and missionary groups within the association. Halifax Baptist Association promotes current missions partnership programs of the Florida Baptist Convention.

WMU offers organizations and approaches, as well as ministries, that enable every member of the church to learn about missions, become involved in missions, and live a missionallifestyle.
Men's Missions and Ministries assist churches in developing Christian missions education and outreach through the involvement of men and boys.
Evangelism
Evangelistic opportunities abound in the Halifax area! We are truly a mission field "white unto harvest", presented with daily challenges in reaching people for Christ. The Halifax Baptist Association provides recourses to assist the local church in meeting these challenges head on. Together we will spread the Gospel and add to God's Kingdom!
Youth
Ministering to youth is one of the most important things we can do as churches. Halifax Baptist Association churches provide a broad range of dynamic worship opportunities for the young people in the Halifax area. As an Association it is our mission to assist churches in reaching youth in their communities. Throughout the year many exciting programs and services are provided to strengthen the youth program of the local congregation, and increase the Kingdom of God.